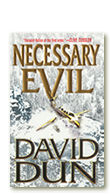 Character Profiles

Jessie Mayfield
In her own self-analysis, Jessie Mayfield started out with one major vulnerability: She was frightened to death of failing at anything.

Even as a child, it was her credo that she had to be tough and perfect. But something inside her was soft. It came out first with the animals. Incredibly determined, she had created a backyard menagerie of those particularly lucky creatures that fell into her hands before they met the ultimate sanction at the city animal shelter. To support her critters she got a paper route.

At age 15, however, the animals went. She swore off loving animals as best she could, and at age 16, became a somewhat introspective girl who plunged headlong into the world of computers.

It was only while earning her MBA that she had a sort of social blossoming. Awkward at first, she learned how to reach out to people. Shortly after school, she wed. She thrived at her first job, at a high-tech company where she soon headed the information technology division. While her career flourished her marriage collapsed, adding to her suspicion that men were not to be trusted.

It was her best friend Gail who convinced her to join the Federal Bureau of Investigation, effectively arguing that Jessie could specialize in computer crime—no street work—and match wits with the smartest crooks in the business. There was no end to the personal creativity she could bring to the task of hunting down virus disseminators, techno-terrorists, and other computer criminals.

But Jessie fell on hard times with the FBI when her boss and mentor Frank Belotti took cruel advantage of her best friend Gail. Feeling thoroughly disillusioned with men, Jessie fled to her sister's wilderness ranch on a brief sabbatical to sort out her life. It was there that she met Kier Wintripp, a man's man.

Where Kier is all wilderness she is all city. Jessie doesn't even like picnics, much less mountain climbing. Although generally fearless, she is deathly afraid of heights. When a plane crashes in the mountains near her sister's wilderness ranch, she goes with Kier to investigate the accident, feeling that her duties as an agent not only require that she attend to the disaster, but later, when they learn that criminal activity is involved, that she take charge.

Where Kier's life has been steeped in a culture that values the differences between the sexes, Jessie's life has been devoted to equal opportunity. Nothing about her life as a career FBI agent has prepared Jessie for surviving in a frozen wilderness on a mountain with Kier.


Back to Top