"Escapist fiction
of the first order."
—Clive Cussler

"Well written,
full of suspense..."
—Steve Alten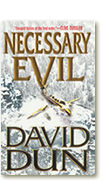 A private jet crashes in the snowbound mountains of northern California, bringing with it a plane full of exotic toxins, paramilitary shock troops, and a blizzard of death for Kier Wintripp and Jessie Mayfield.

A renowned veterinary doctor and Tilok Indian, Kier Wintripp tends to the horses, sheep, cattle, and most anything else the people of Wintoon County think to raise. A tracker and survivalist, he knows the mountains that spawned him and every aspect of surviving their rigors.

Jessie Mayfield has come to the wilderness to escape the stress of a professional betrayal that threatens her career with the FBI and everything she has worked for. She hopes a stay with her sister and the simple routine of mountain life will bring the clarity of mind to decide whether to bring down her mentor, a good man turned bad, and a legend in the Bureau.

Kier and Jessie could not be more different: She is all city, he all wilderness. They are brought together in a fierce blizzard when a plane crash draws them into the forest to investigate. There they discover the twisted remains of a corporate jet and nine bullet-riddled bodies bearing silenced weapons. The jet's cargo: a secret so astounding that its owner, corporate raider and world-class hunter Jack Tillman, will do anything to protect it.

As Kier and Jessie flee deep into the wilderness they learn their enemy has the instincts of a wild animal, the cunning of Machiavelli, and the fury of a psychopath. With a small army to carry out his commands, Tillman relentlessly stalks the pair.

But it's not enough merely to evade Tillman in the snowbound high country. Kier and Jessie must also overcome their own disagreements and their differing perceptions of a world being redefined by technology. Initially each is certain they have the better grasp of the complexities that face them, the better solution to the unfolding tragedy. Jessie and Kier are nevertheless forced by an unforgiving wilderness; a ruthless pursuer; and their growing and unexpected need for each other, to fashion a new understanding both of themselves and the world they share.

With a rare mastery of setting and suspense, David Dun hurtles you through an unforgettable thriller full of mind-bending plot twists and relentless chases, leading you to a clash of old mysteries and new technology to discover at last a secret you dare not even dream about.


Back to Top